Here we will walk you through how you create your first Users, what to think of, and how to bulk upload many users.
Before you begin
A quick heads up, make sure that you have your Units & User Types in place before you go ahead and create Users.
To be able to create a User, you need to have the permissions to do so, you can find guidelines on how to change permissions here.

What are Users? How do the Unit and User Type connect to the User?
A User is as you may have guessed, a staff member in your organisation.
When you assign a user to a Unit(s), you basically place them into the physical or virtual location within your organisation.
When you assign a user to a User Type, you basically place them into their internal role in your organisation.
By doing so, you also hand over a certain amount of permissions on what the user can do in your Ziik platform.
This logic applies to most features in Ziik, where you can share information with users based on their roles (user types), and where they belong (unit) in your organisation.
Below is an example of the User Tania, sharing a news post to her crew (user type) in C2 (unit).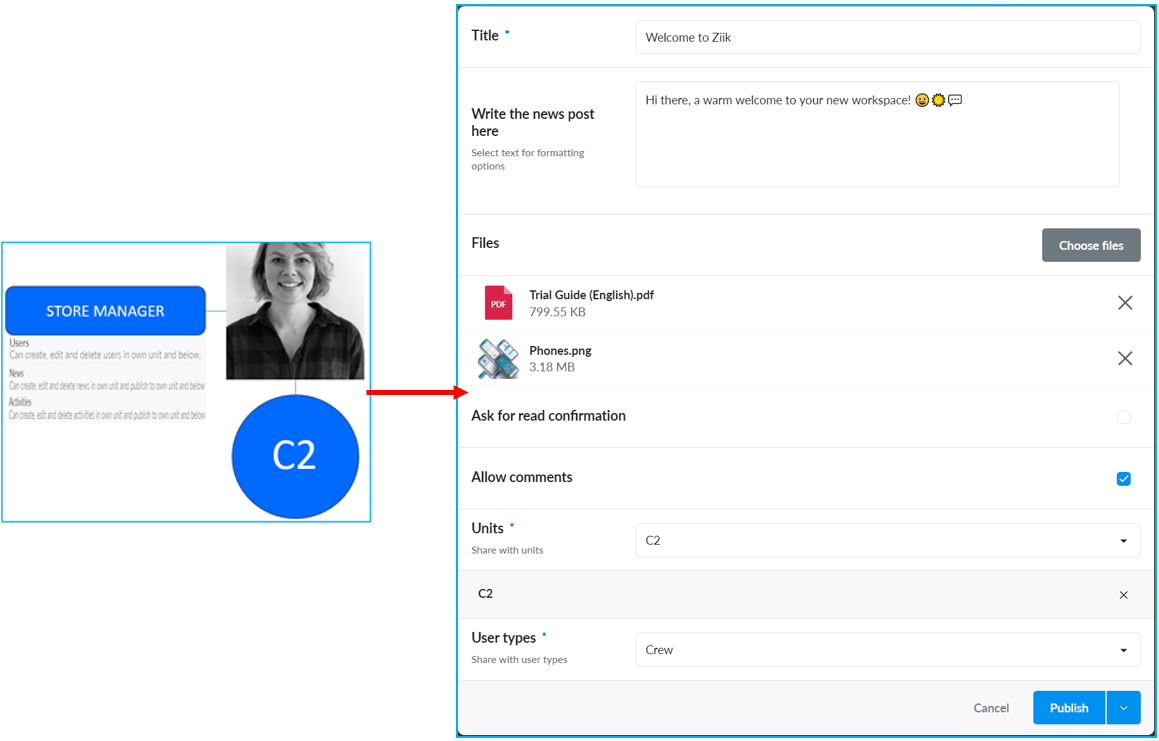 Create your first User
You will find Users under the feature Contacts, and the first landing page puts you in the Users (People) tab.
Add one user at a time (easiest)
Head into the feature contacts, and you will automatically be put into people (users).
In your top right corner you have the option to "+ Create user". Click it.

Fill in all the information, all blue marks are

mandatory

.

IMPORTANT: Do not send a welcome email until you have either added all users you had in mind, or all the information is updated under the persons profile (see "how to edit/manage a user").


Save the profile.
TIP: Companies enjoy higher engagement by uploading profile pictures of colleagues before roll-out.


Locate the profile of the newly created user, and click it.
In your top right corner, you have "..." click it and choose "Edit Profile".
Upload a profile picture by clicking the "current" picture, or by dragging a picture into the area.

Add users in Bulk (+10 employees)
Have in mind
Make the first bulk a smaller import to see if you are able to match your headlines correctly. (10 employees ~)
If you are a larger organisation, start with the people that are included in your pilot test. If you want to know more about how to best get a large organisations started, contact sales.
Step by Step
In your top right corner you have the option to "import". Click it.

In the new menu, read the instructions on how to import a user and download the excel sheet by clicking "You can download an example excel file ...".

Fill in the excel file accordingly, and once completed, drag and drop or upload the excel file to the same menu.
Match the headers/properties with the document.

Click Import and your users will now be added.
What's Next
Alright, we are almost through the basic setup. Your Look & Feel, Units, User Types and Users are now ready to go.
Now it is time to decide which features you will drive your engagement through. If you already are all set on which features to include in your platform, you can have a look at "Why is early engagement key?" to get an idea of the importance of early content.