In this article we are going to look at how you can restrict Users from seeing other Users. This is helpful if you are part of a franchise organisation.
Before you begin
Ziik is built on a sharing / viewing permission logic that is based on the User's User Type (Role) and to which Unit (Restaurant / Franchisee cluster) in the organisational hierarchy the user belongs to.
This setting normally only applies to franchise organisation.
Remember, you need to be on a Desktop and Administrator to access and change this setting.
Make sure that you Units are correctly setup in your Ziik platform.
Restrict User Profiles
Finding Restrict User Profiles
From your desktop, in the top right corner find the cogwheel.
Click it, and the first thing on the drop-down menu will be Settings.

In your top-bar you have three options, click the third option Preferences and you will find the setting.

What happens if I activate "Restrict User Profiles"?
This setting affects all units and which Users are visible.

All users will still be able to see all Units and the units contact details in the organisation.
Users will only see other Users' profiles in their own unit and all Units below as well as parent Units.
Users will not see or have access to any other Users located on the same unit level.
Social interactions between Users that are not visible to each other
In social interaction

(comments and likes), a user, not in your own unit will appear with only their first name and the first letter of their surname (i.e.

Christopher C

).

Groups: If you create a Group from a parent unit, including members from two different units, then the following logic applies:

If I am a User in restaurant R5, then I will only see the first name and first letter of the last name of people from restaurant R6 in our group.

Chat & Activities: Same logic as above.
Example of an organisation
View as a User in unit R5

As a user, you can see people's profiles and start a chat with them following the red line.


View as a Franchisee in unit Franchisee Cluster 3

As a Franchisee, you can also see R6. You can otherwise see people's profiles and start a chat with them following the red line.


View as a manager in unit HQ

As a manager, you are on top of the top-down logic of Ziik, and therefore able to see everyone's profile and start a chat with them.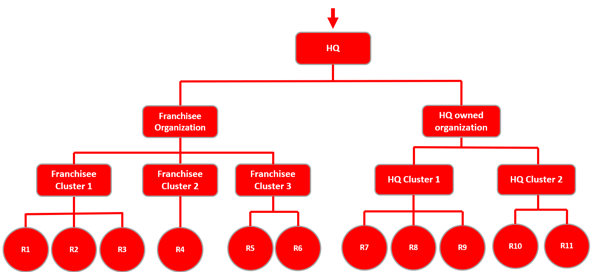 What's Next
Now that you know how to restrict user visibility, it can be a good idea to look over categories and see if they are applicable to your organisation.