Learn how to create User Types and set permissions.
☝️Before you begin
Only users with Platform administrator permission can create User Types.
We recommend that you create your User Types before you start adding any content to the platform.


---

What is a User Type in Ziik and what is the purpose?
A User Type is is a role shared by more people in your organisation such as i.e. managers, staff, technicians, sales. All Users in your platform will have at least one User Type.
Permissions in Ziik are set on the User Type. This determines what a Users can do and not do from their own level in your organization.


---

Creating User Types
Go to the admin panel and select User Types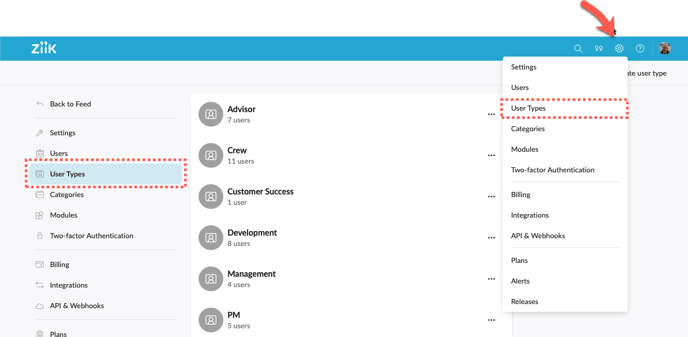 Now Create user type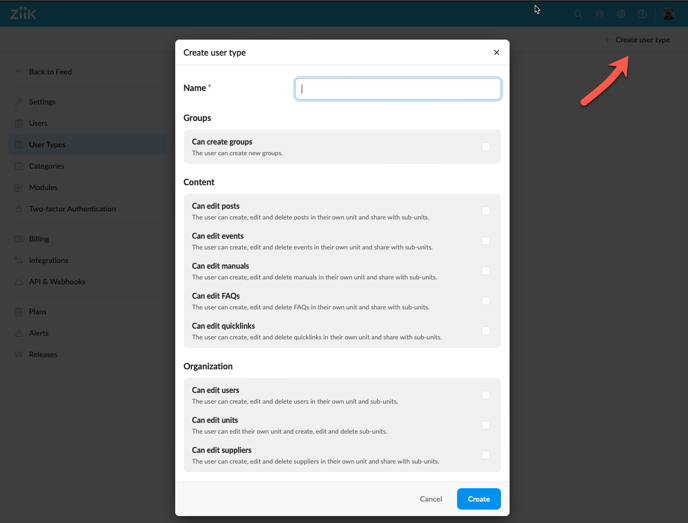 Name your User type and decide what permissions Users with this User Type should have in your organization.
Tips!
- Try to limit the number of user types to keep things simple. Typically 4-6 user types will do the job.
- Don't hesitate to empower your local managers so they can use all the tools at local level. This will increase the overall engagement in your organization.
---
What's Next 👉
When you have created your User Types and set their permissions it is time to go to Step 4 to create or import your Users.
✅ Step 1 - Customizing Ziik to fit your brand
✅ Step 2 - Creating your organisation
✅ Step 3 - Creating User Types and set permissions
👉 Step 4 - Creating / importing Users