We will together take you through how you create your first unit, what to think of, as well as uploading many units.
Before you begin
To be able to create a unit, you need to either me Site Admin or have the permissions to create a Unit. You also need to do it from a desktop.
This is the starting point of your Top-Down way of communicating.
It is essential to create Units before adding any content as it is the fundamental pillar Ziik is built upon.
What are Units and how are they used?
A unit is typically a physical location, such as a restaurant, office or shop. A User is assigned to one or several Units in Ziik.
The units are similar to the way an an organizational chart is built, and it allows your users to communicate and share information on different levels so that information is always relevant to the User.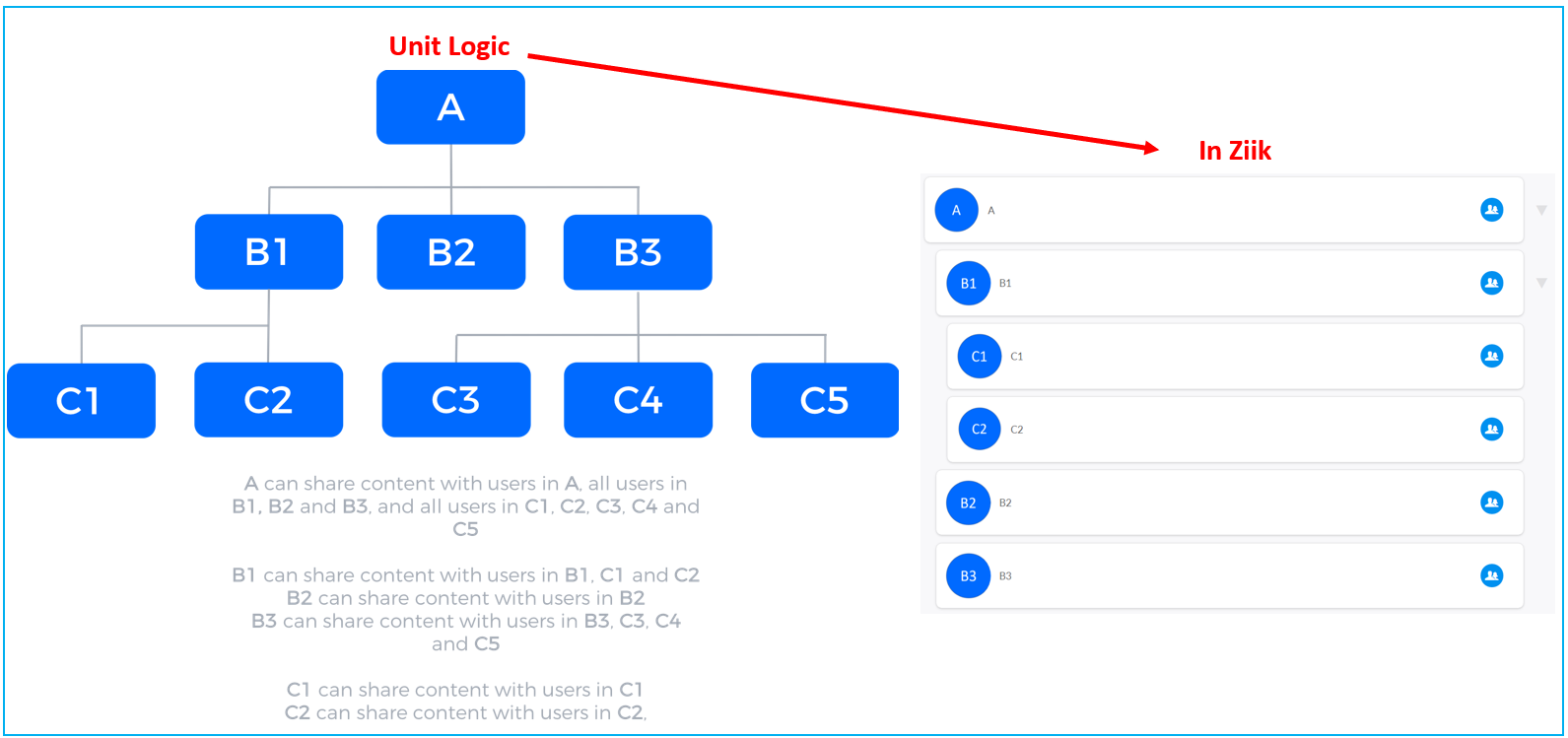 Create your first Unit
You will find Units under the feature Contacts, navigate to the top bar and click Units.

Add one unit at a time (easiest)
In your top right corner you have the option to "create unit". Click it.

Fill in the name and parent unit.



Important - Parent Unit: The units are sorted after our Top-down structure. Normally, it resemble the organizational chart so that all information is directed towards the right user.

Save the Unit.
Add Units in bulk (large organisations)
In your top right corner you have the option to "import". Click it.

In the new menu, read the instructions on how to import units and download the excel file by clicking "You can download an example excel file...".

Fill in the excel file accordingly, and once completed, drag'n'drop or upload the excel file to the same place where you downloaded the file.
Match the headers/properties with the document.

Click Import and your units will now be added.
After you have added the Unit
You can add more information to the unit if you would like, everything from opening hours, to uploading a profile picture. Locate your newly created unit in the list and click it, then follow the instructions here.


What's Next
Great job! 1 out of the 2 pillars of Top-Down is now built 🔨🔨
Next up is the second pillar, User Types & Permissions. Here you will create and grant permissions for different roles within your organisation. If you want to learn even more about Units before you move on, head over here.