Here we will teach you how to create your first User Type, what you need to consider and how you assign Permissions to them.
Before you begin
To be able to create a User Type, you need to be a Site Admin. You also need to do it from a desktop.
This is the second selection criteria of your Top-Down way of communicating.
It is essential to create User Types before adding any content as it is the fundamental pillar Ziik is built upon.
What are User Types & Permissions, and how are they used?
A User Type is typically the roles within the organisation, e.g. managers, floor staff, sales or marketing.
The User type is a bit more diverse than Units, as it is both a way to target communication/information to different roles, and grants permissions to what Users are allowed to do in your Ziik workspace.
As a User in Ziik, you can also belong to multiple User Types.
The Permissions are connected to each User Type and it determines the administrative rights of what a User is allowed to do in the Ziik platform.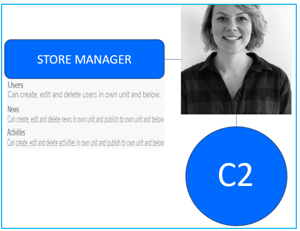 This is Tania.
She is assigned to the User Type Store Manager, which gives her the permissions to create Users, News and Activities.
She also belongs to the Unit C2.


Create your first User Type
You will find User Types in your top right corner, as the second setting under the cogwheel.

Again, look to your top right corner where you will find "+ New User Type". Click it.

Fill in the name of the User Type and click save. The name should be a group of people that you have in your organisation. Example: Crew, Store Manager, Sales etc.

All done, time to move on and set the permissions for your newly created User Type.
Add Permissions to your User Type
Find your newly created User Type, and click the "..." in the right corner.

You will now have a menu from which you can determine what this User Type will be able to din your Ziik workspace. These permissions will depend on which Features you decide to activate for your workspace.
An example of a Tania's User Type:
Store Manager.
Remember to have in mind what communication and information you expect the User Type to handle.
In this example, Shift Schedule have been deactivated as a Feature, and hence these permission are not shown.
The permissions are connected to the Unit the Store Manager is assigned to, which means that the User can only make changes from their Unit and below.


This Store Manager will have quite a lot of local autonomy as most permissions are activated.

The autonomy allows the local Store Manager to handle their "own" Ziik workspace.


The permissions of the User Types are connected to the Unit the User is assigned to, which means that the User can only communicate & share information from their Unit and below.
Remember that you can always return and change the permissions.
3. Click Save when you are happy with the permissions.

Create the rest of your User Types, and their adjoining permissions before moving on to the next step.
TIP: Keep it simple to start with, don't create more User Types than necessary.
What's Next
Great Job! You have now completed your platforms visuals and the fundamental structure (Units + User Types) of your platform. 👍🔨
It is now time to move on and create your Users, either one by one for a pilot group or by bulk upload. Click here to move on!