Here we will walk you through how you create your first Users, what to think of, and how to bulk upload many users.
☝️Before you begin
A quick heads up, make sure that you have Created your organization & set-up your User Types before you go ahead and create Users.
To be able to create a Users, you need to have the permission to do so. Permission to create and update Users is set at the User Type. You can find guidelines on how to change permissions here.


---

What is a User?
A User is any person in your organisation that you wish to include in your communication platform such as i.e. employees, collaborators, board members, advisors and subcontractors.
---

How to Create Users (one by one)
You will find Users under the feature Contacts, and the first landing page puts you in the Users (People) tab. Click on "+ Create User".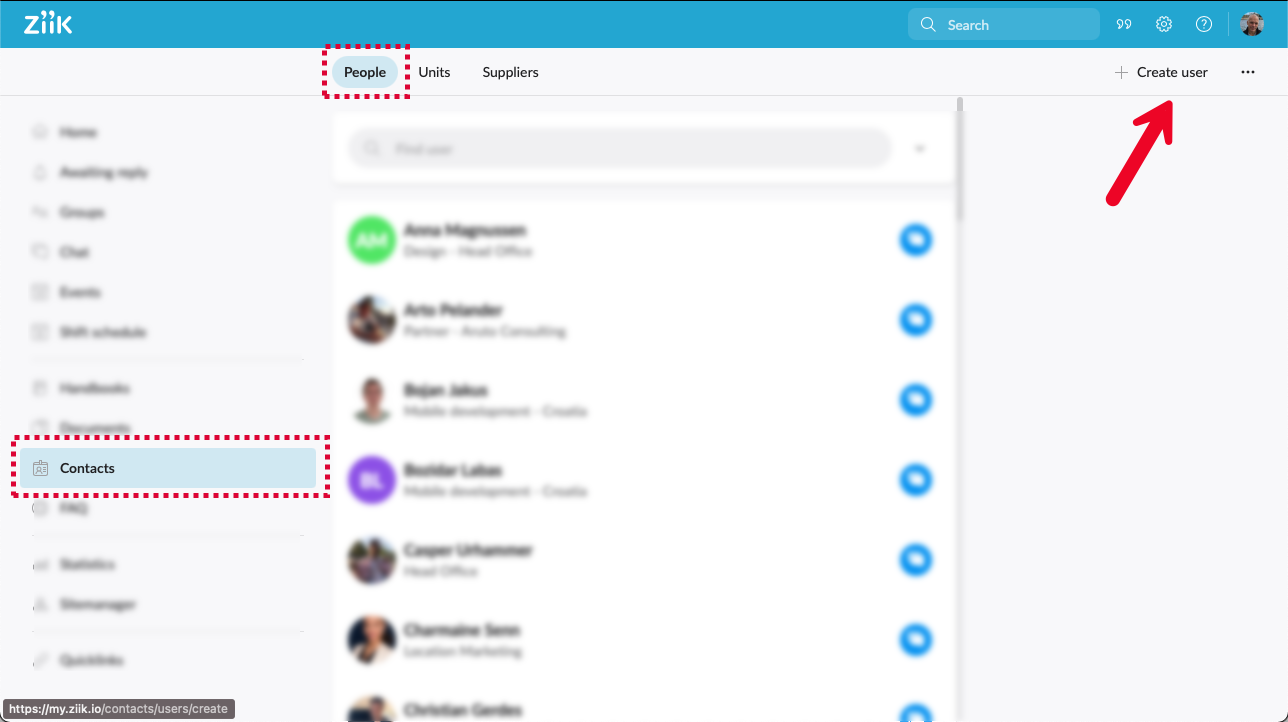 Fill in the form:
First name*
Last name*
Email*
Job title
Unit*
Department
User types

Language*
*) Mandatory fields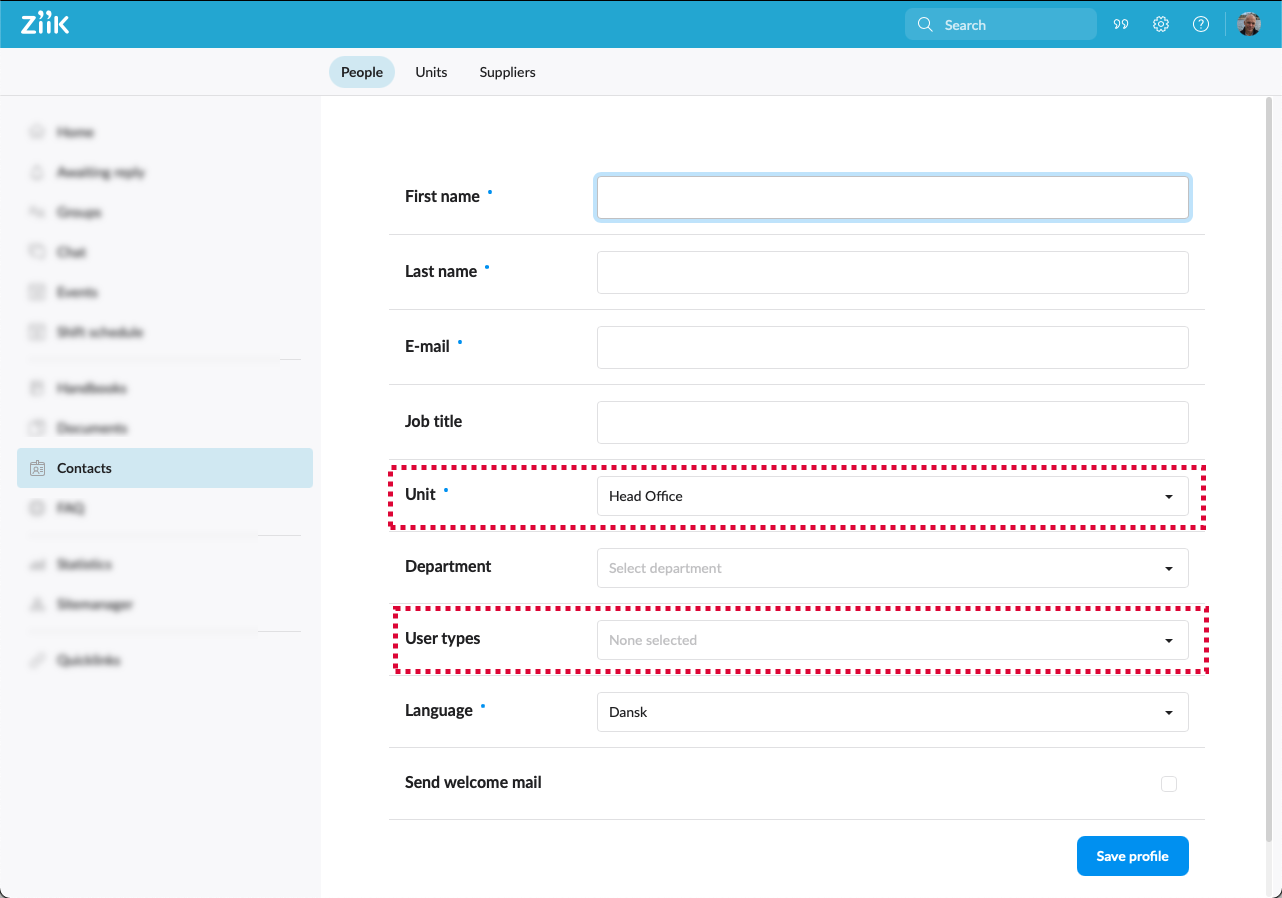 The platform has as default start setting one Unit and the User Types Manager and Staff. If you don't create your own organisation and User Types these will be the choices that you have when you create Users. Go to Create your organisation and How to create a User Type to learn more.

Welcome mail
Do not select "send a welcome mail" until you have either added all users you had in mind, or all the information is updated under the persons profile (see "how to edit/manage a user").
---

Reminder! Units and User Types determine the User's permissions in your organisation

Unit
When you assign a user to a Unit in the platform, you basically place them into the physical or virtual location within your organisation. Users can now share information within their own part of the organisation if they have permissions to do so (This is dermined by the User type). User can belong to more than one Unit if this is relevant.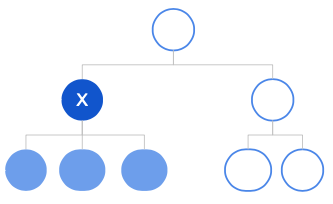 User Type
When you assign a User to a User Type, you basically place them into their internal role in your organisation with the permissions you have selected for that role. Users can be assigned to more than one User Type if this is relevant.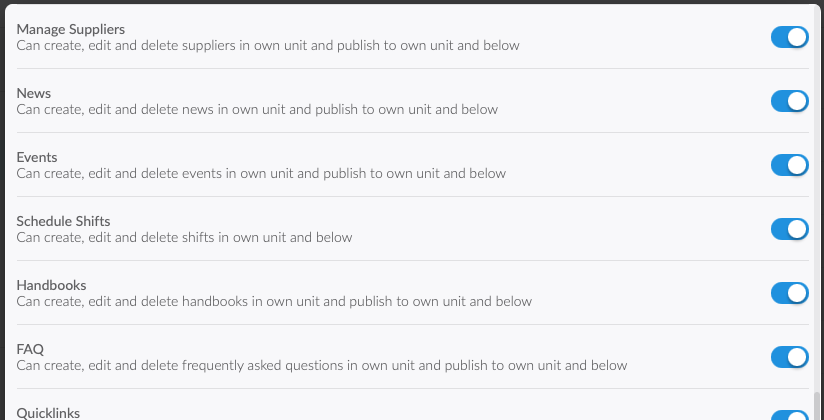 ---

How to add a profile picture
Companies enjoy higher engagement by uploading profile pictures of colleagues before roll-out.
Locate the profile of the newly created user, and click it.

In your top right corner, you have "..." click it and choose "Edit Profile".

Upload a profile picture by clicking the "current" picture, or by dragging a picture into the area.



---
Import users


Make the first bulk a smaller import to see if you are able to match your headlines correctly. (10 employees ~)
If you are a larger organisation, start with the people that are included in your pilot test. If you want to know more about how to best get a large organisations started, contact sales.
Step by Step
In your top right corner you have the option to "import". Click it.

In the new menu, read the instructions on how to import a user and download the excel sheet by clicking "You can download an example excel file ...".

Fill in the excel file accordingly, and once completed, drag and drop or upload the excel file to the same menu.
Match the headers/properties with the document.

Click Import and your users will now be added.


---
What's Next 👉

✅ Step 1 - Customizing Ziik to fit your brand
✅ Step 2 - Creating your organisation
✅ Step 3 - Creating User Types and set permissions
✅ Step 4 - Creating / importing Users

All done? When you have completed Step 1-4 it is now time to prepare your platform with content before you start onboarding your teams. Continue with Step 5.
👉 Step 5 - About content and what you need to get started
⚪ Step 6 - Setting-up groups for global and local communications
⚪ Step 7 - Prepare your first chat channels and messages.