The Document feature enables you to upload and access documents. You will be able to share targeted documents with specific users or units.
The Documents module can be found in the top right-hand corner of the Ziik app's main menu. When the user access documents, a list of shared folders will appear arranged by title.
The Document are restricted by the different permissions that are given to a user type. It is not all users that will be able to upload and access all the documents.
How to access a document
To access a document, you have to open the folder with the given documents and then click on the document. You will now be able to access the document by clicking on it. The file will automatically open.
If you are either unable to open a document which you should be permitted to open or if the document simply will not load either one or both of the following problems might be present – luckily, however, this problems are easily rectified.
The Permissions Settings of Your Smartphone
Ziik will not be able to show you any kind of documents in the documents module unless you have given the Ziik app the permission read and write photos. If this permission is set to "never" Ziik will not be able to show you the documents in question. Here is how you go about changing your permission settings:
Open the settings app on your smartphone.
Find the Ziik app by either scrolling down to it or searching for it.
Open your settings regarding photos.
Select "read and write".
For reference, here is also a visual example of how you should perform steps 3 and 4: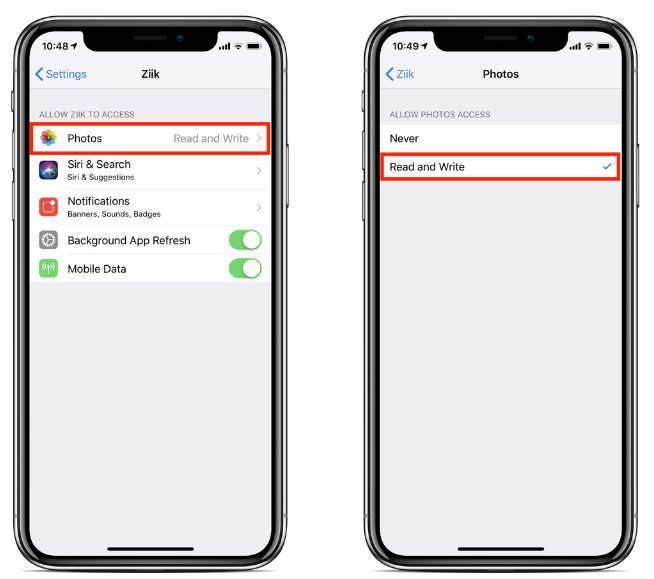 The Name of the File
In order for you to be able to open a document in the mobile app it most be titled as follows:
Here are some examples:
salad recipe.pdf
shift schedule.xlsx
expense form.docx
If the file is simply titled "salad recipe" you will not be able to open it from your mobile device.
How to create a folder
When you have accessed the Documents, you will be able to create a folder. To create a folder, click on the "+" icon in the top right-hand side corner of your window.
You will now be able to give the folder a title and set the permissions for which users and/or which units that will have access to the folder. Additionally, when you have decided which users or/and units that the folder will be visible to, you can now decide which permissions that they should have. You can choose "Read permissions", "Write permissions" and "Manage permissions". This is done when you click on either "share with units" or "share with users". Remember to click "Done" to save your edits.
For information on which units and users have access to the folder and the permissions they have, click on the icon with the "i".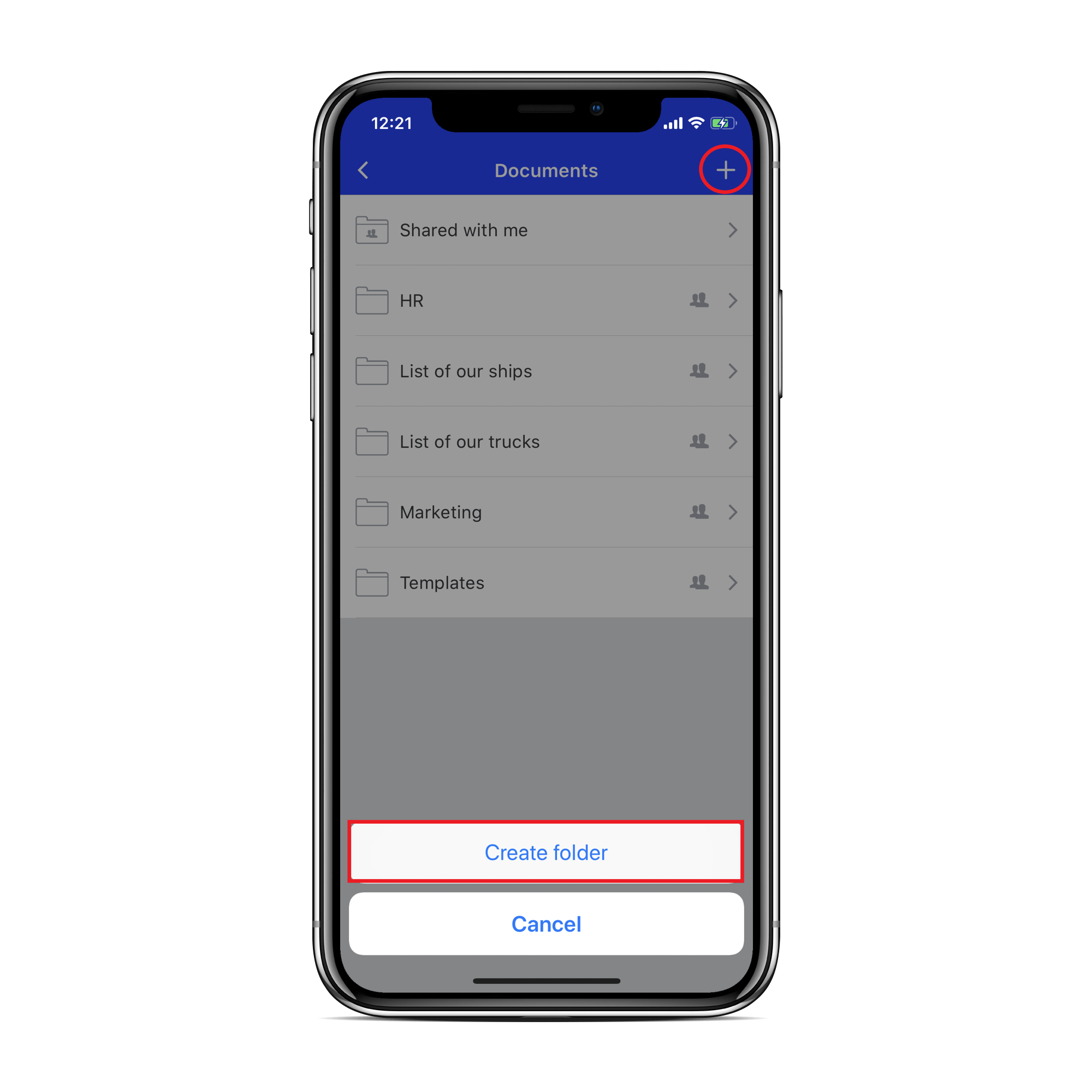 How to upload a document
You will now be able to add files to the folder. To upload a document, click on the "+" icon in the top right-hand side corner of your window. Click on "add" files, and you will then be able to choose form the selection of files on your phone.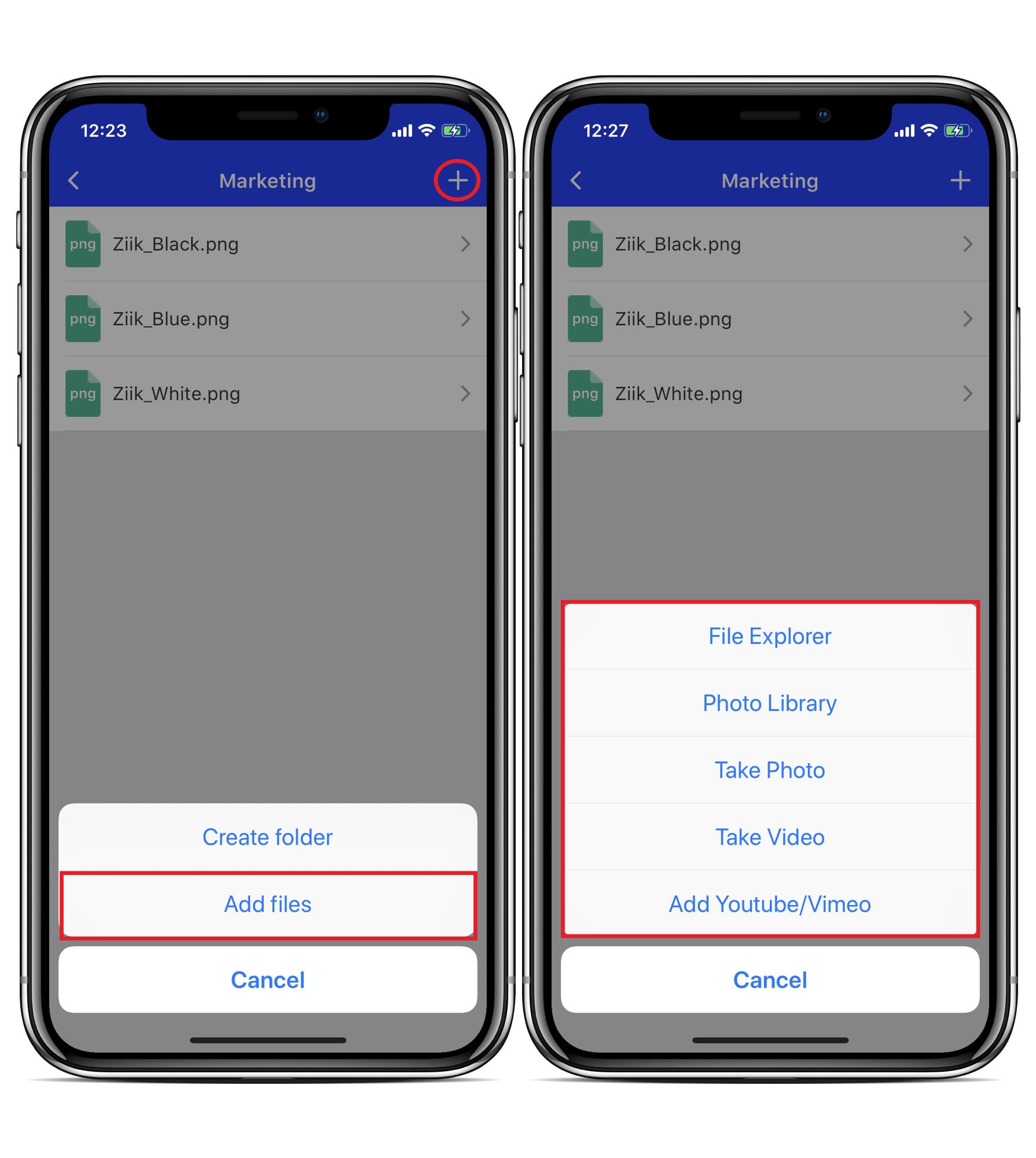 What's next?
Arranging folders and uploading files is always easier on the desktop due to the better overview, feel free to read about how documents works on desktop by reading this article How does Documents work (Desktop).