Engage teams, ease project management and follow up on activities in real-time with groups. Groups ensure focus and specialization in a familiar and effective format.
If you're using the Ziik web app you can find the Groups module in the left-hand side menu. Simply click it once and you'll be greeted by two tabs, one titled "My Groups" and another one titled "Available Groups". From here you'll be able to create, join, and delete groups as well as to add content to them.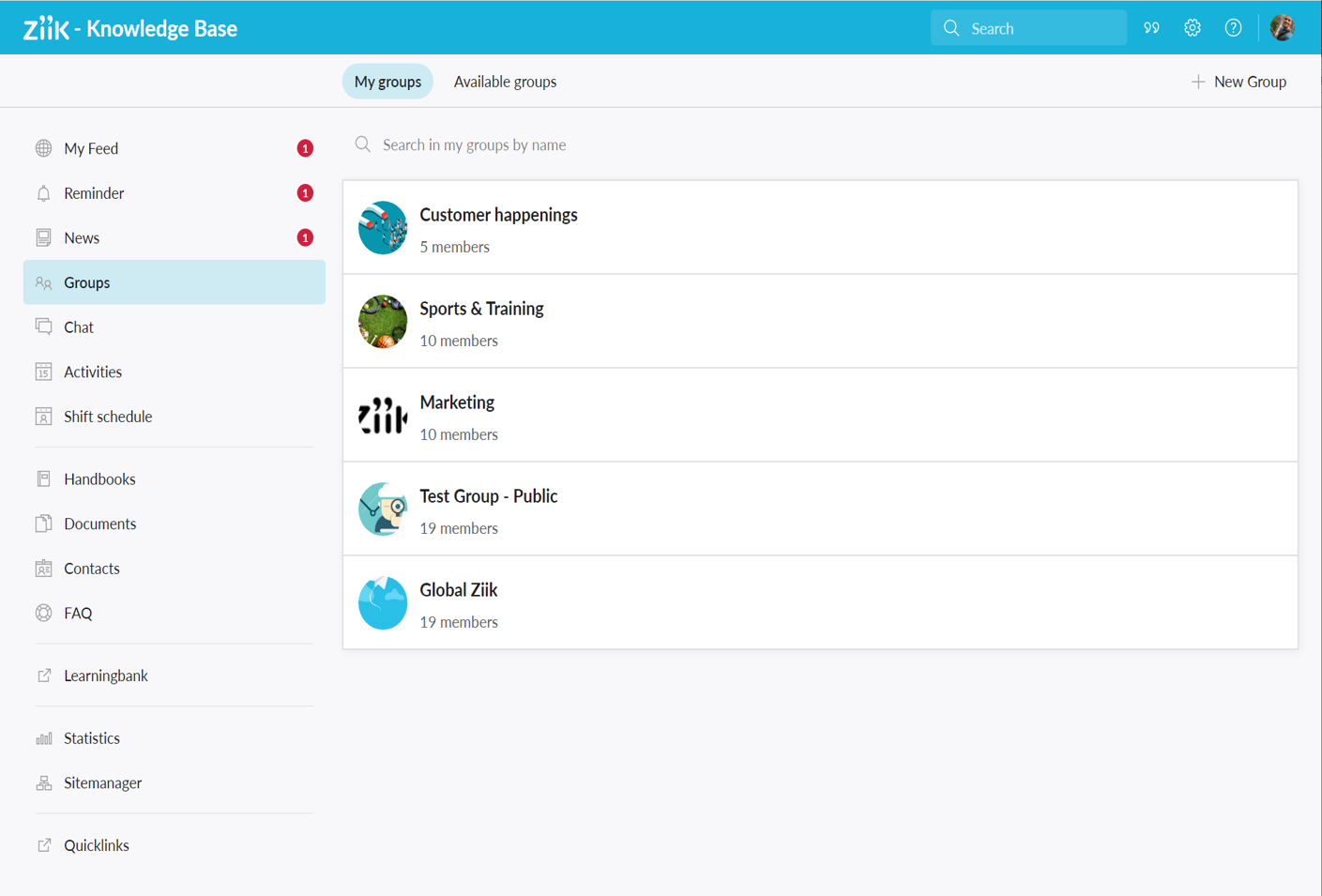 How to Create a Group
There is one prerequisite in regards to your ability to create and manage groups in general. Your user type has to have the permission to do so, i.e. it has to be permitted to create groups.
To create a group you just have to click the the "+ New Group" icon in the top right corner. Upon clicking it, a new window will be opened which will allow you to give the group a name, describe its purpose, and to assign automatic members through Ziik's user types + units.
3 things to remember when creating a group.
You don't have to set user types + units directly as you can add members manually once the group has been created, which allows you to create cross-organisational groups.
You can choose to create a private group and only invite specific people from your organisation, or you can can create a public group and allow anybody to join.
By adding user types + units you ensure that all relevant people are in the group and that new employees will be automatically added.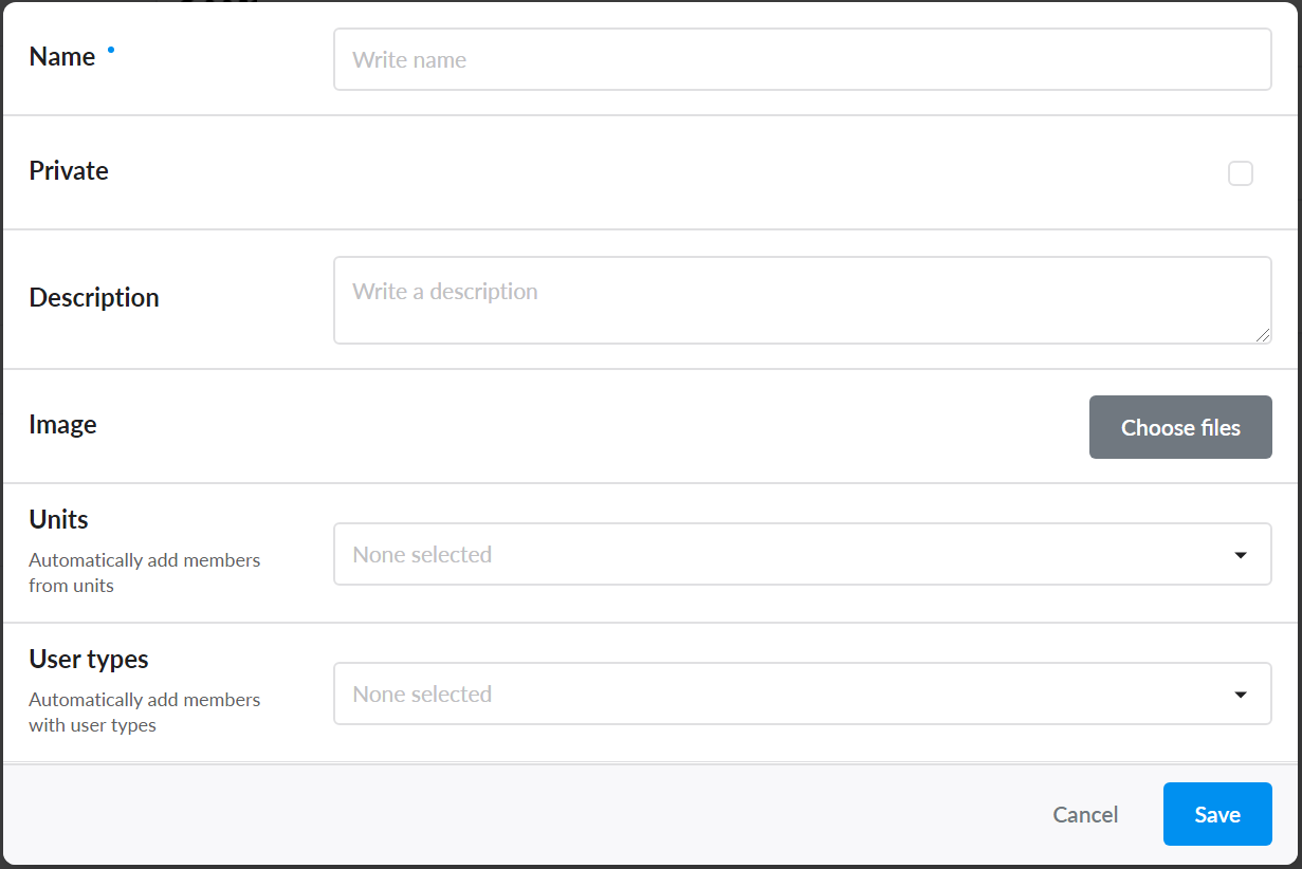 As the group administrator you can go back and change the group setting at any point in time.
How to Edit, Leave and Delete a Group
The only user who's able to edit the settings or delete the group in its entirety is the group's admin(s). If you are the admin and wish to do either of those things you'll first of all have to click the "..." which can be found at the right end of the group's menu bar.
If you wish to leave the group, you have to select a new admin first.
If you wish to delete the group, there is no return if you do so.
If you wish to edit the group, you'll be met by the same set up window you've already encountered when creating the group.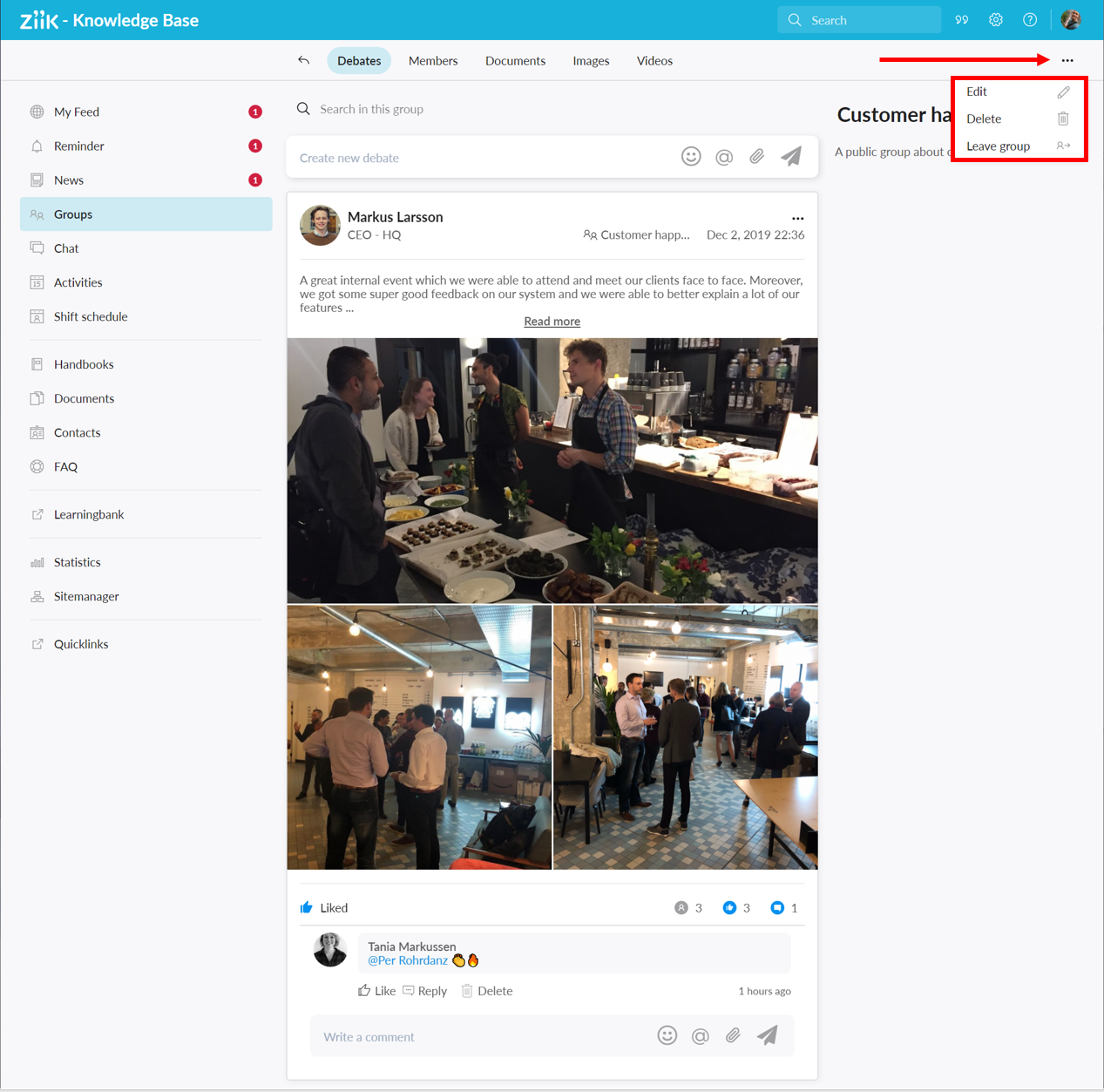 How to Understand the Group's Layout
Groups in Ziik use their menu bar at the top of the screen as their main navigation tool. There are five different tabs:
Debates

The feed of the group

Members

Where you can add/remove/promote members of the group.
You can also access a group member profile.

Documents

All documents that have been posted are saved and easily accessed here.

Images

All images that have been posted are saved and easily accessed here.


Videos


All videos that have been posted are saved and easily accessed here.

How to Join a Group
Public Groups: To get an overview of the groups that you can either join or apply for you'll have to go to the "Available Groups" tab. Simply click a group you want to join, this will prompt a small window which asks you to confirm that you want to become a member of the given group.

Private Groups: The private groups are invisible as only members of the group can see it. If you know of a group you wish to join, you will have to ask the admin of that group to invite you.
How to Add Contacts to a Group
The ability to add people is reserved for the admin of the group. If you are the admin and you'd like to add someone to your group the first thing you'll have to do is to navigate to the members tab which you can find in the groups menu bar.
In order to now add a new member you simply have to click the icon "+ Add member" in the far right of the menu bar.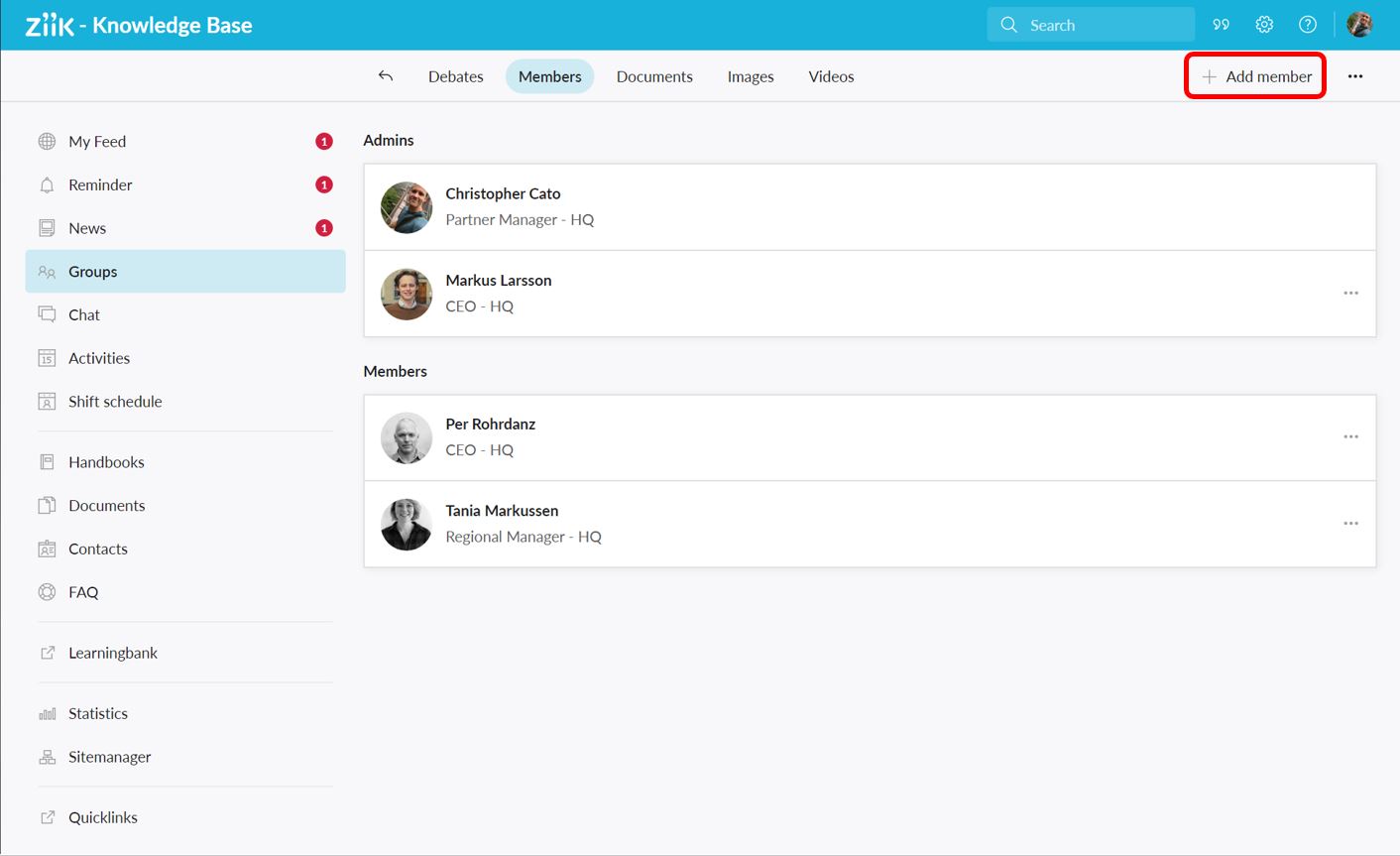 This will open a menu with all contacts that you have available, from here you can search and filter after the contact you need. Once you have found the contact you are looking for, press the "+" icon on the right side of their portrait.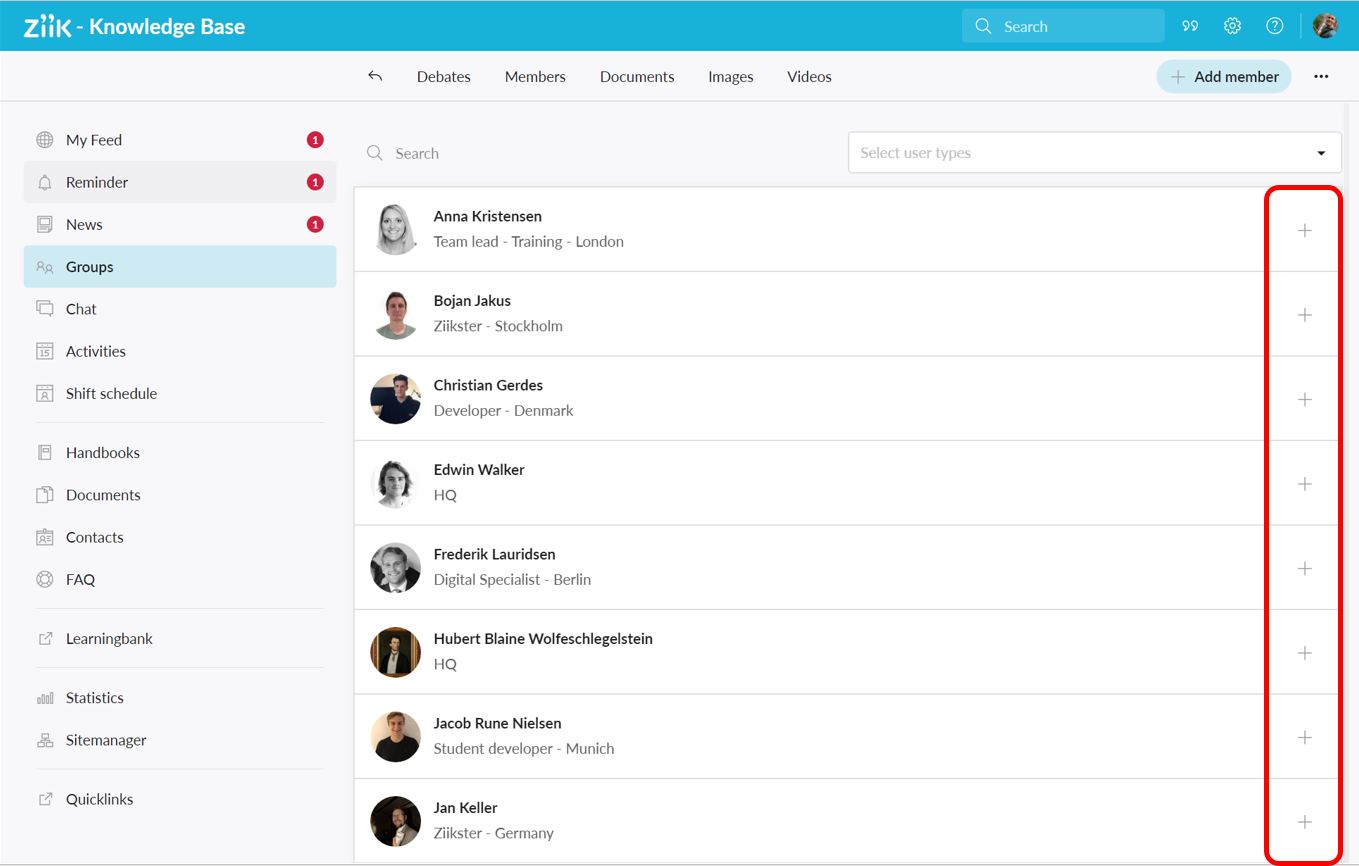 Filtering
There are currently two ways to filter the content in the group:

Latest Activity: This filtering will always put the debate of a group which had the latest activity at the top of the group. Activity includes:

Comments & Creation of a debate

Latest Created Post: This filtering setting will always put the latest created post at the top, no matter the comment activity on different posts. This way, you can always make sure that you've read the latest posts without being disturbed by comments on topics that doesn't concern you.
What's next?
Groups are a powerful communication tool that allow you to communicate effectively across your entire organization. Furthermore, we'd recommend you to read our article on how to create a group post.
Feel free to read about how Groups works on a mobile device by reading this article How does Groups work (Mobile).