My Feed crawls news posts, group posts and activities under one feed.
My Feed
My Feed is you go-to source for company updates and information. My Feed allows you and other users to share information within own unit or other units and different user types, of course, depending on where in the hierarchy your unit is placed. My Feed shows news post, group content and upcoming activities thereby providing you with a central source to get an overview of what is going on.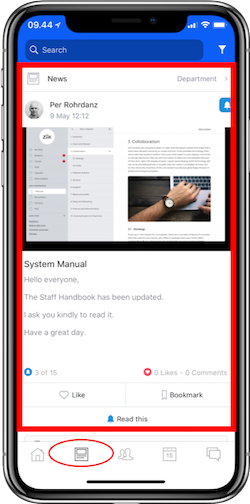 Filter section
When accessing My Feed through the mobile app you can use the filter in the right-hand side corner to decide what information you are looking for within your feed.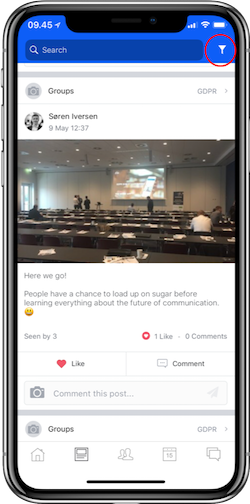 You can filter for bookmarked news post which is news post you have bookmarked, meaning that you have saved them for later. To bookmark a news post you simply click the ribbon icon in the bottom of a news post stating "Bookmark", and you can now go to the filter section and tick the Bookmarks option and you will only see the news post that you have bookmarked. Moreover, you can also filter for news posts with read confirmation which is news posts that requires you to confirm that you have read the news post. You can also filter for news post drafts which is news posts that you have saved as a draft. As mentioned, My Feed crawls the content from Groups and Activities relevant for your user type which you can also filter for to, for instance, only see content from Groups.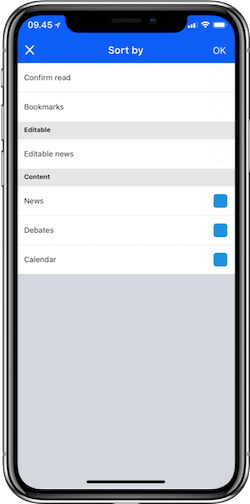 What's next?
Lastly, My Feed allows you and other users to share information through a one-to-many channel thus providing you with your main source for relevant content depending on your place in the hierarchy and your user types. To read more about user types and the hierarchy read our article How does Ziik's hierarchy work. Furthermore, you could read our article, How to create a News Post.
Feel free to read about how My Feed works on desktop by reading this article How does My Feed work (Desktop).