This article will describe everything you need to know about activities.
Activities are a feature used for internal meetings, workshops and social happenings within your organisation. It can also be used to publish upcoming marketing campaigns so that your team always knows whats going on.
Creating an activity
Start by finding the "+ create new activity"

A new window pops out, and here you can fill in all details about the activity.

Title & Location

What's the name of the activity and where is it located? Zoom? HQ?


When

All-day → Is the activity a full day? Then tick this box.
Begin + End → Is it over several days? Is it over a couple of hours?
Recurring activity → Does this activity happen more than once?


Allow Comments & Show in Feed

Allow comments if people should be able to ask questions or just general excitement! Show in the feed for further visibility and allow the picture or video you have uploaded to shine. These are ON by default.


Confirm participation

If you are having an event that requires participants, it is ideal to switch confirm participation

on

.


Pictures + Files & Notes

You can drag'n drop any pictures, videos or files into this field, or alternatively upload by clicking "choose files". These files are displayed if you choose to show in Feed.
Any information regarding the activity should be described and put in notes.


Who to share the Activity with

Units (Restaurants, offices, countries, etc.)

When you are creating an activity you can decide who you want to share it with. Initially, you decide if the activity should be visible to all units. If you want to share the activity all units below the selected unit, you simply tick the "Include subunits" option.

User Types (Store Manager, Waiter, Marketing, etc.)

Now its time to choose the people you want the activity to be visible to. Simply click the "Select user types" and a drop down menu appears. If you want all roles within this unit(s) to see it, simply click "select all" in the box.

Selected Users

This features is unique to the activities as it allows you to schedule activities across your entire organisation. Here, you have the option to ignore the above two sharing mechanisms and only share with individuals. Alternatively, people can be added on top of your already selected units + user types.


Time to Publish!
Confirm Participation
Once you have triggered confirm participation, the receiver must accept or decline the invitation before the notification will disappear. Activities with confirm participation is shown in two ways.
In your activity module, the activity has a different look.

It is also crawled into your Reminder where it will stay until you have accepted or declined the activity.
Connecting your Activities to a Calendar (Gmail, iCal, Outlook, etc)
Embedded in our feature you have an "iCal" button upon which you can connect your calendar to. This allows for all activities in Ziik to synchronize to your daily calendar. Remember that this is a one-way connection from Ziik to your calendar, and not the other way around. You can read more about setting it up here!

Edit or Delete Activity
If you have made a mistake, or simply would like to edit or delete an activity, you can do so by clicking the activity and then the icon that appears in the top right corner of the window.

Filtering Activity Types
You can separate between common activities, your units activities, your activities and your shifts. You do this by pressing the filter button found on the menu above the calendar. When doing so, you will be offered the opportunity to choose which option you want to display, filtering out all other activities.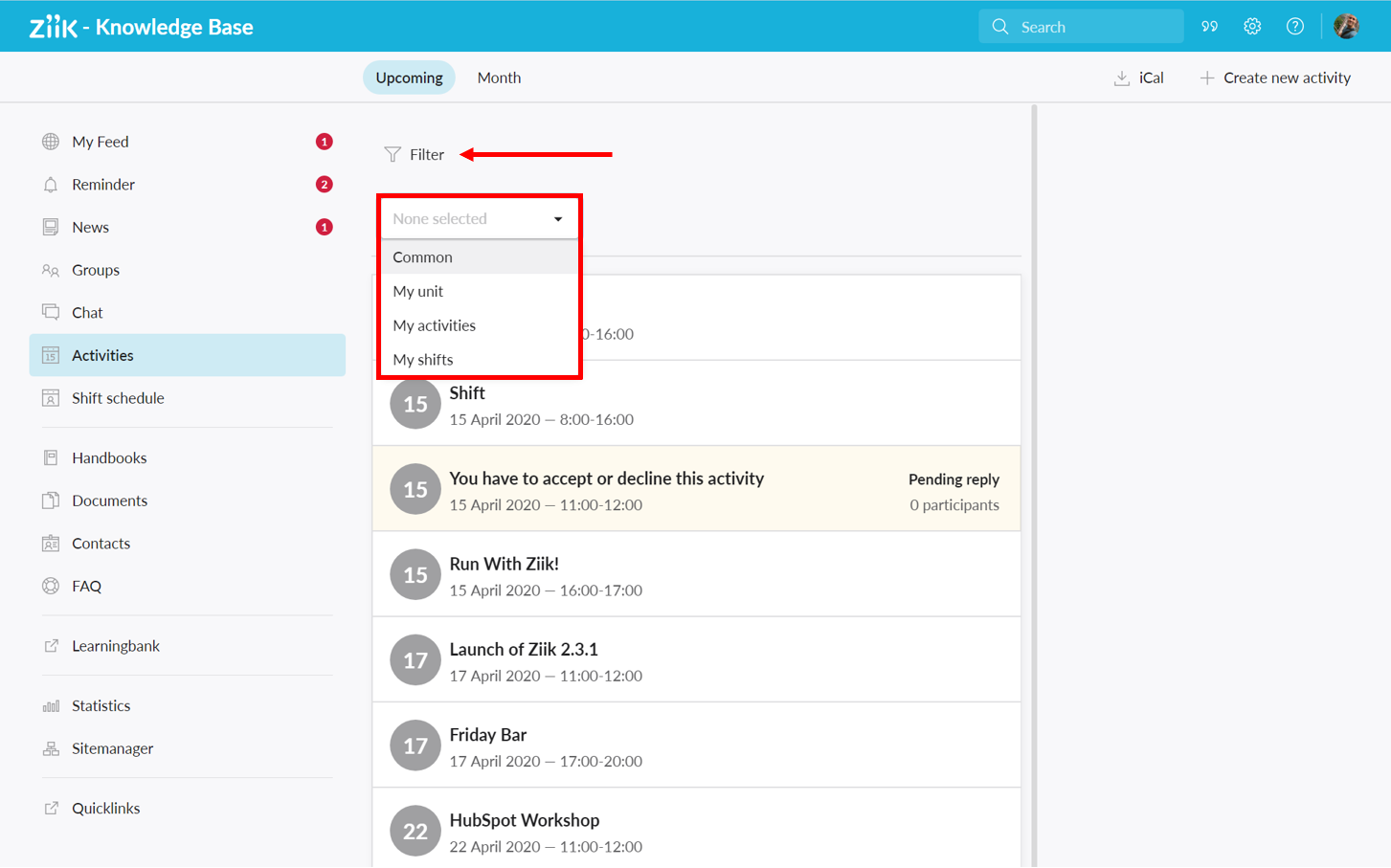 What's Next?
In summary, Activities is a feature that helps structures your work, book activities and stay on top of what is going on in the organisation. To learn more about the activities, read how to get the most out of Activities . Feel free to also read about how Activities works on a mobile device by reading this article how does Activities work (Mobile).