In this article you will learn the basics about how you can communicate, share information and engage your workforce in Ziik.
🏗️ Ziik is built around the following two internal communication pillars


Top-down communication should be the cornerstone of your internal communication
Every company has a need to communicate and share information Top-Down from the management to the workforce in order to ensure transparency and keep everybody informed. But you also want to reach the right people in your organisation, at the right time, with the right piece of information, in order to avoid noise and information overload.
Drive culture and people engagement Bottom-Up and Across in your company with social technologies
We all use social networks and your younger employees have grown up with it. Using the best sides of social technologies in an integrated and secure company environment therefore makes very good sense. This creates a powerful and dynamic way to engage with your workforce Bottom-up and collaborate in teams Across your entire organisation.
Ziik is an All-In-One company solution for your internal communication
Ziik offers you an All-In-One Company Communication Platform, where you can communicate and share information with laser sharp Top Down focus, engage with your teams Bottom-up, and collaborate in online groups Across your entire company. All in a secure work environment at the hand of every employee, wherever they work.
⭐ Starting point - Create your own organisation in Ziik
You build your own organisation inside Ziik with Units and User Types, which serves as the backbone for your communication and information sharing. This is your organizational chart. What a User can do and see is defined by the User Type(s) you assign the User and in which Unit(s) the User belongs to.

🏢 Unit: This is the place where people work. A Unit can be any physical or virtual location in your company such as i.e. HQ, local office, store, warehouse and production site.

👀 User Type: Who can post and who can see? A User Type allows you to communicate with users that have the same information needs. Permissions are part of your User Type and decides what a user is allowed to do in Ziik.
👤 User: A User in Ziik is an employee, colleague or coworker in your organisation.

Once you have set up your organisation in Ziik, defined your User Types, created your company Users, you can use the full power of all the communication tools in Ziik.
⬇️ How does TOP-DOWN communication work in Ziik?
Let's have a look at this organisation as an example.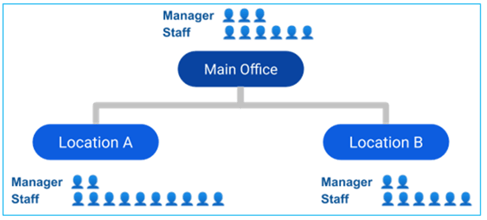 🏢 Units: Main Office, Location A, Location B
👀 User Types: Manager, Staff
👤 Users: Your workforce
(Example: Lisa is a Manager in Location A

Example 1: You are a Manager in the Main Office
You can share information with users in the whole organisation by selecting which User Type(s) and which Unit(s) you want to share with.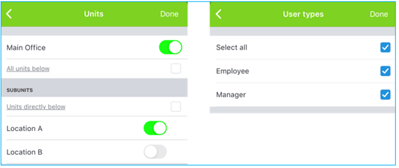 Example 2: You are a Manager in Location A
You can share information with users in your own Unit by selecting which User Types you want to share with.



Note! You cannot share information with any other units at the same level or above you. In this example you cannot make company posts to the Main Office and Location B. If you have Units below you, you can share information with these units.
👉 You can communicate and share information Top Down in News, Activities, Documents, Handbooks, FAQ and Quicklinks.
How does Bottom-up & Across communication work in Ziik?
In Ziik it is easy to interact and engage with your workforce Bottom Up and Across. You can set permissions for each User Type and decide whether you want interaction or not on individual posts.
⬆️ Engage BOTTOM UP
When you make company announcements, share updates or distribute information of upcoming activities, you can allow for comments and likes so that team members can engage with the content that you share.
👉 You can engage Bottom Up in News and Activities.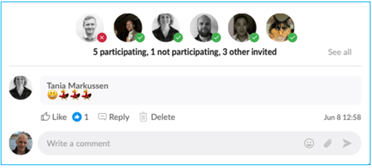 🔁 Collaborate ACROSS
This is where the magic happens! ❤️
Create permanent or temporary Groups or Chat channels for teams, projects or company-wide collaboration and share workshops in Activities by selecting specific Users. This is where your workforce can coordinate, interact, share files, and stay in the loop.
👉 You can communicate and collaborate Across in Groups, Chat and Activities.
Next Step
Perfect, you have now learnt both What and How Ziik works, and therefore it is time to move on to the setup of your Ziik platform.
Next up is to setup the visuals of your platform, where you can add colors and logos.
If you have already done that you can always jump on to the creation of your first units.