Here you will learn how to create a group post in a few simple steps.
Basic information
Anyone who is a member of a group can post in the group.
Group posts are informal compared to the News Post, hence the basic layout when creating a group post.
Groups are the tool to improve your daily work, so never be afraid of commenting or posting when in doubt or need!
Step by Step
Enter the group you want to make a post in.
Navigate to below the top bar where you will find "Create new debate"

Text + Emojis


Add any text that you want to the post.

Mentions @

Mention any member of the group by writing @Name of the person.

Files

Drag and Drop any files onto the field or click the paper clip to upload any files.

Send
How to Edit, Delete or send a Direct Link on Posts
After you've sent the post you might want to edit or send the post directly to someone else. Important to note is that only admins can delete posts in groups (picture). This you can do by following these steps:
Click the "..." in the top right-hand corner of your post or comment.
From the drop-down menu select either "edit" or "delete", "direct link" depending on what you want to do.
Follow the instructions on screen.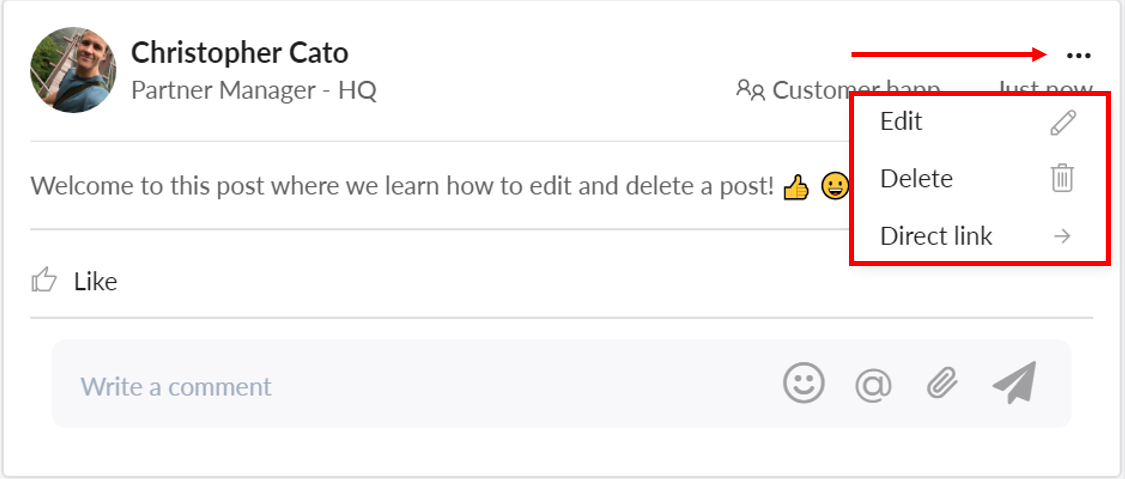 How to edit and delete your own comments on posts
Anyone in the group can comment on the group posts. If you do so and you make a mistake, you can simply delete or edit your own comment.
Keep in mind:
You do not need to be a group admin to delete or edit your

own

comment.
Group admins can delete and

all

comments.
If you delete a comment, remember that any comment attached (replies) to your comment is also deleted
If you delete a reply comment, then only your reply will be deleted.
Once deleted, the comment is gone and nobody will be notified of it, nor see "comment deleted" type of messages.
How to delete and edit a comment:
Find the post and the specific comment you want to delete.
Click "Delete" or "edit"

What's Next
Now that you know how to create a group post, it is time for you to get familiar with Groups therefore read this article How does Groups work. If you have already been over Groups, take the next step and understand how the Chat works.