Here you will learn how to create a group post in a few simple steps.
Basic information
Anyone who is a member of a group can post in the group.
Group posts are informal compared to the News Post, hence the basic layout when creating a group post.
Groups are the tool to improve your daily work, so never be afraid of commenting or posting when in doubt or need!
Step by Step
Enter the group you want to make a post in.
Navigate to below the top bar where you will find "Create new debate"

Text + Emojis


Add any text that you want to the post.

Mentions @

Mention any member of the group by writing @Name of the person.

Files

Drag and Drop any files onto the field or click the paper clip to upload any files.

Send
How to Edit, Delete or send a Direct Link on Posts and Comments
Let us assume that you have just started a new debate or just chimed in on an ongoing debate. After doing so you realize that you have made a mistake, perhaps you have misspelled something or your contribution is factually wrong. In either case, there is no reason to worry since you will be able to either edit or even delete your post within 15 minutes of posting it.
Here is how you either delete or edit a group post or comment:
Click the "..." in the top right-hand corner of your post or comment.
From the drop-down menu select either "edit" or "delete", depending on what you want to do.
Follow the instructions on screen.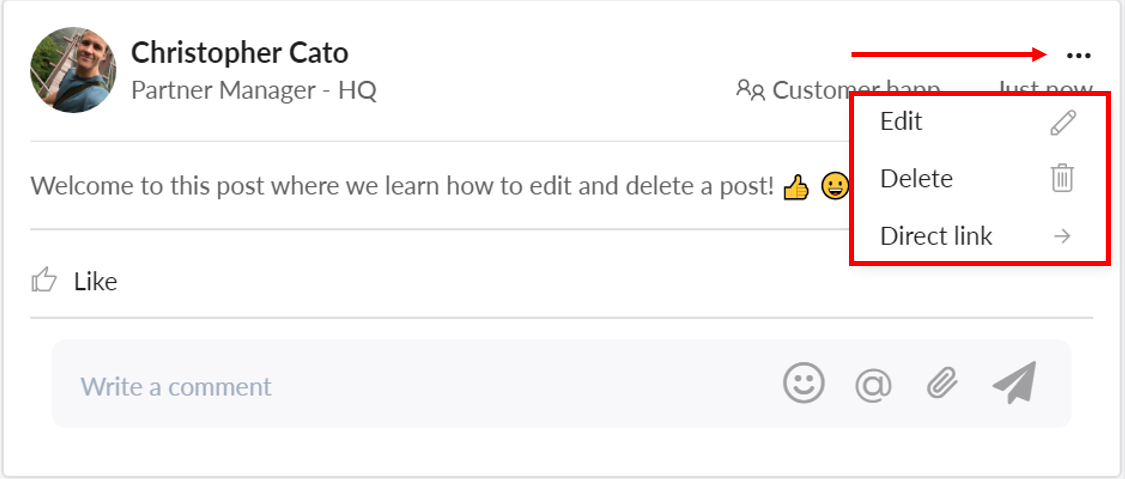 An important thing to keep in mind is that once 15 minutes have passed you will no longer be able to remove or edit your post. This is for the sake of continuity, i.e. to avoid breaking up ongoing debates and to ensure that earlier debates remain intact.
There is one exemption from this rule. If you are the group administrator you will be able to delete both your own posts and comments as well as those of others at any point in time. Thus, should you find yourself in a situation where you need to delete one of your posts after the 15 minutes have passed you should try to contact an administrator and ask him to delete it for you.
What's Next
Now that you know how to create a group post, it is time for you to get familiar with Groups therefore read this article How does Groups work. If you have already been over Groups, take the next step and understand how the Chat works.