This article covers everything you need to know about a news post, from how you create a reminder to all features of the news post.
To create a news post you simply have to click the top bar of My feed or News feature with the text "Create a news post". Below is a short video on how to simply put a news post together.
In a few simple steps you can create a post that will reach your entire organisation
Click "Create a news post"

You can find this in the top of your feed or to your top-right corner.

Fill in the title, body and upload any relevant files.
Read confirmation

Read confirmation means that other users have to acknowledge that they have read your news post and it will also appear in Reminder

and it will be an

active notification until the user has confirmed the post

.

Allow Comments

You can decided whether your colleagues can comment on your news post. If you enable comments you can comment the news post by clicking on the text box in the bottom of the news post starting "Write a comment".

Who to share the news post with

Units (Restaurants, offices, countries, etc.)

When you are creating a news post you can decide who you want to share the news post with. Initially, you can decide if the news post should be visible to all units. If you want to share the news post with specific units you simply untick the "Include subunits" option and thereafter choose which units you want to share the news with.

User Types (Store Manager, Waiter, Marketing, etc.)

Now its time to choose the people you want the post to be visible to. To do this you simply click the "Select user types" and a drop down menu appears. If you want all roles within this unit(s) to see it, simply click "select all" in the box.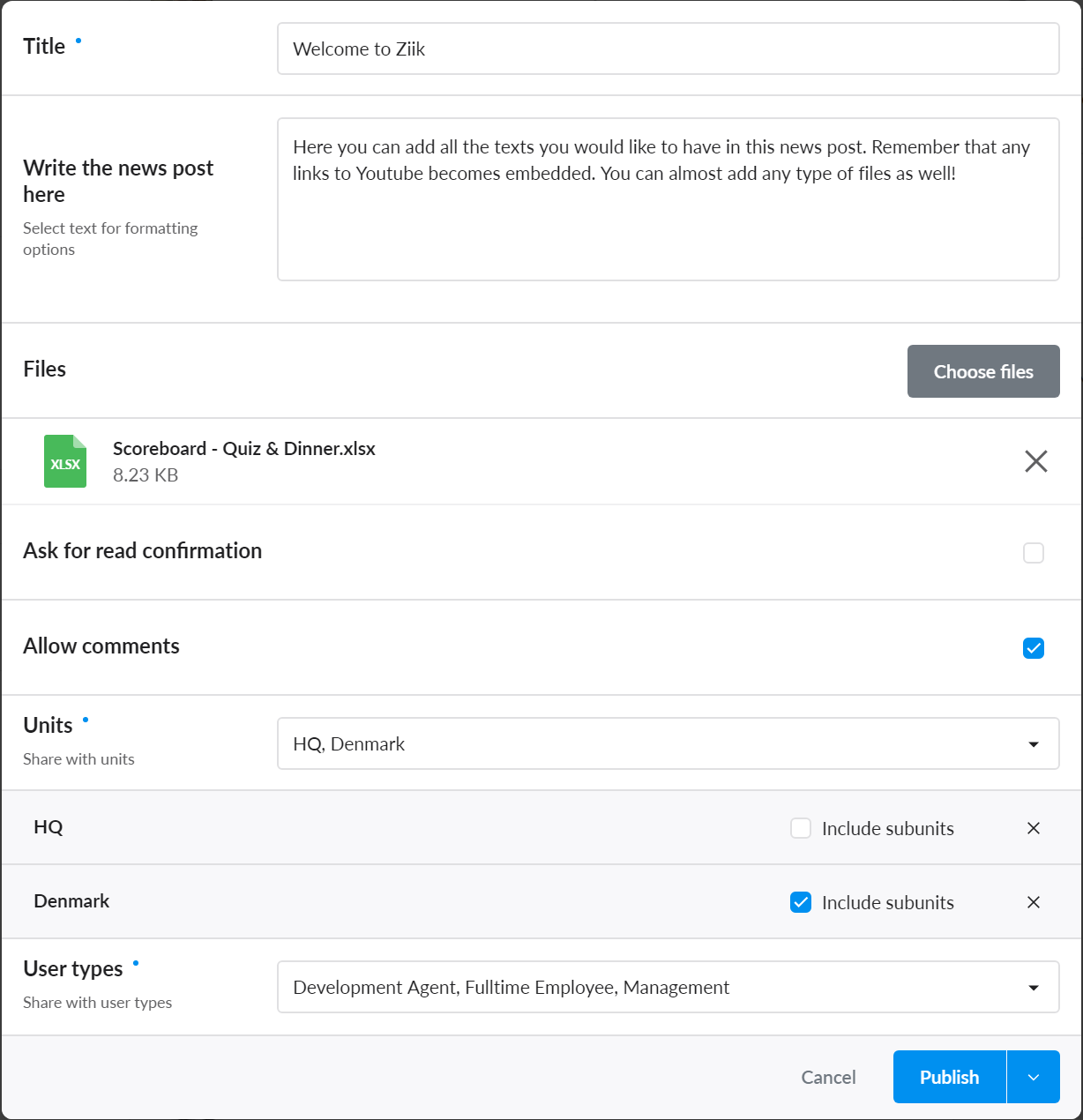 Publish
When you are done creating a news post you can publish the post by clicking the blue box stating "Publish". You also have the option to set a publish time by clicking the arrow right next to the "Publish" option. Here you can choose a date and time that you want the news post to be published. You can also save a news post as a draft, thereby you have the option to save the news post and return to it later.

The drafts and scheduled news are easily located in the top bar under the feature News.
Drafts
Once you have located your draft, you simply edit the draft by clicking the three dots "..." and go back into the same menu as you previously had open.
Set Publish Time
Once you have located your scheduled draft, you can also edit it by clicking the three dots "..." and also change the time for the post.
What's Next
Now that you know how to create a news post, it is time for you to get familiar with My Feed therefore read this article How does My Feed work. To learn more about the user types and hierarchy read the following articles How to manage User Types and Permissions and How does Ziik's hierarchy work.