First impressions count! It is important that you have set-up the platform and that you have the basic content in place. Now it's time to drive communications to ensure that your employees quickly adopt your new company engagement platform.
Keep all your communications in one place
It is very important that all communication now happens in your new company engagement platform. Adoption will be poor if you continue to communicate via the channels you used before such as emails and private social media groups. Employees must know that there is only one place where company communication happens.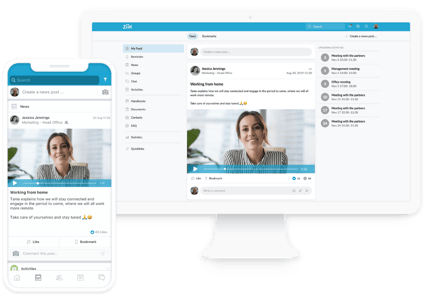 Drive engagement with your local Managers
You need your local managers to drive engagement at local level. A local manager can be responsible for a team, department or local intity.
It is important that you onboard your Local Managers in a first step to ensure a succesful roll-out to all employees with early engagement.


Why is early content key for your engagement?
First impression counts - If you invite your users to an empty platform, our experience indicates that the users will have a lower engagement.
Relevance for all users - By ensuring that there is content that each User Type uses on a regular basis you will obtain increased engagement. That type of content can be FAQ's, Documents, Handbooks or Quicklinks.
Drive content Top-Down - Make sure that you plan to release frequent relevant content to all Users. It will ensure a higher engagement and a feeling of belonging to all users. That type of content can be a weekly News Post, company Activities or social content in Groups.
Ensure that your teams can engagement locally from day 1. - By creating groups and chat groups on a local level where your teams can communicate and Exchange information, you will create the foundation for a strong engagement in your platform.
Early success fosters a long term culture - We have seen that companies who engages their teams in early stages often leads to teams driving organic local engagement.

Prepare an engagement plan ✍️
This basic outline should cover the things to have in mind before releasing the platform to your users.
Go through the articles that are relevant to the Features you decided to have on your Ziik platform.
Identify the needs (information & communication) of the end user (crew/staff), key stakeholders and all other relevant staff members.
Create the static content (Handbooks, Documents, FAQ and Quicklinks)
Create your company wide groups and create inspirational groups for your key stakeholders.
Go over how you communicate Top-Down today, and which feature the content match (News Post, Group Post, Activities), and how often you will publish it during the

1st month

.
Set the plan in motion!
🗣️ Onboard your Key Managers
Plan a 30-60 minute session, a week before the launch.
Take a tour of the features
Introduce how to admin, create and manage content on relevant features. Typically Groups, Activities, News Post, FAQ and Quicklinks.
Ask for feedback and if anything is missing.
Let the managers test Ziik before the launch (3-7 days).