Don't want to use all the modules in Ziik? No problem. You can easily turn modules on and off.
---

Topics in this article
Why you may want to turn Modules on/off
Description of the different Modules
What happens to the content if I deactivate a Module?
---

Turning modules on/off
Select Modules in the admin panel.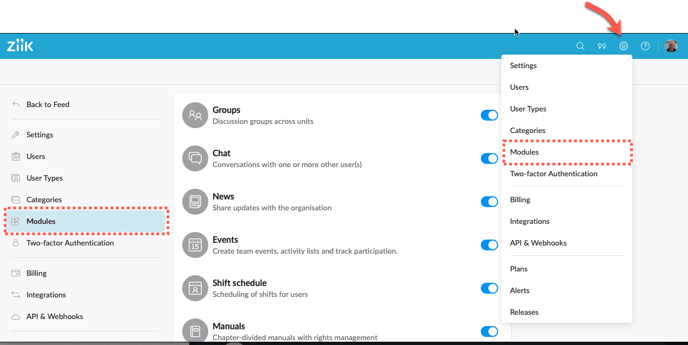 ---
Why you may want to turn modules on/off
Ziik contains range of modules to support your internal communication and information sharing. If you prefer to introduce some of the modules at a later stage you can simply turn them off, or of some of the modules are not relevant in your organization.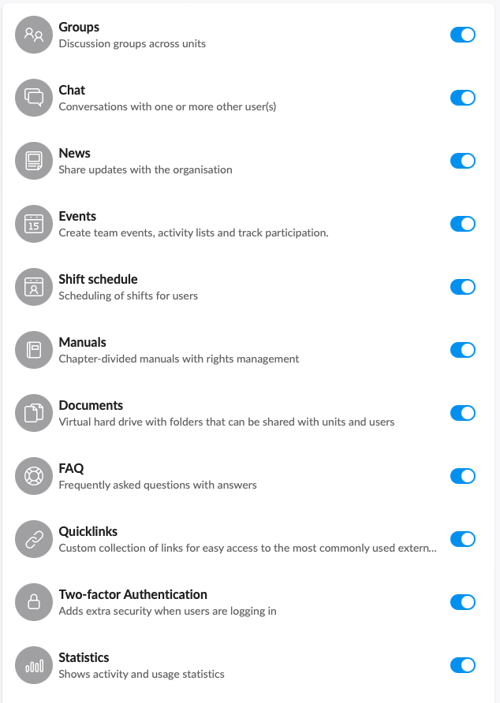 Description of the different Modules


FAQ: If you are tired of answering the same questions about opening hours, salary periods or wi-fi codes, then this is the feature for your workforce.
Chat: The

replacement

to emails. Create one-to-one or group chats and get a good overview of your internal communication.
News: The tool for company wide, or local news. The News is the formal way of communicating with your workforce, whether it be marketing campaigns, new procedures or opening of new stores.
Groups: The informal Bottom-Up / Across tool. Create project groups, restaurant groups or inspiration groups and engage your entire workforce.
Shift Schedule: Are you using Excel? Perfect, our simple shift schedule tool can help you out. Already using a shift scheduling tool? Have a look at our integration possibilities or create a Quicklink.
Handbooks: (Manuals): Employee handbook? Policies? Sales guidelines? Well then this is the feature for you. Everything you put in the handbook becomes both mobile and searchable.
Events: A place where you find information about organisational events, team meetings and mile stones. Whether it be company wide or at a local level, create your workshops and marketing campaign in this tool to keep everyone up to date on happenings within the organization.
Documents: A simple document handling tool. Create folders and share marketing material or the coming months menu.
Two-factor Authentication (2FA): Do you need extra account security? Choose between Google or SMS (additional cost per. sms).
Quicklinks: Gather all your work tools here to make it easy to access. Add the link to your booking system, shift schedule or CRM. Your colleagues will never have troubles to find their work tools again.
Statistics: How good is your engagement? We don't want Ziik to be another platform, so you can monitor your engagement and make sure that each employee gets online here.

What happens to the content if I deactivate a Module?
In short, nothing. The content will remain on your platform, but it will be hidden.